Action in front of the MWC21!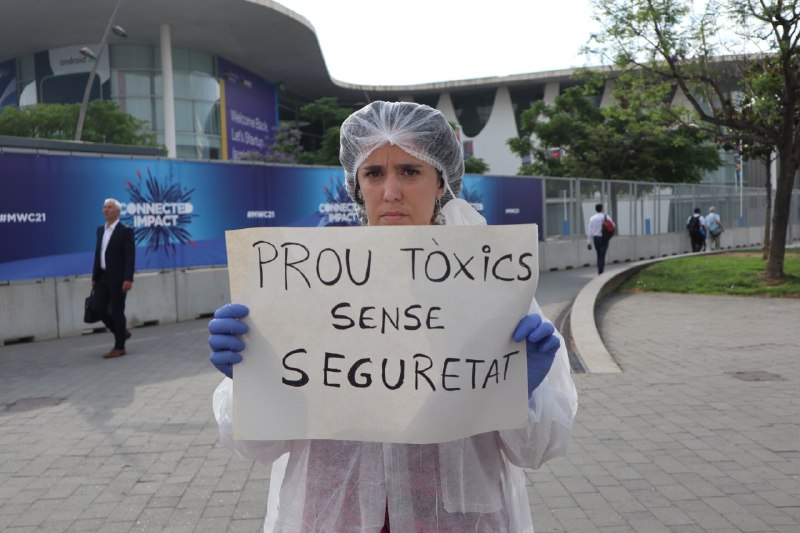 With the motto 'No Coverage – Postcovid-19 Impacts on the Electronics Industry' SETEM is filing a complaint against the Mobile World Congress.
Activists have gathered and protested at the doors of the Fair, to demand decent wages and the protection of human and labor rights in the electronics industry.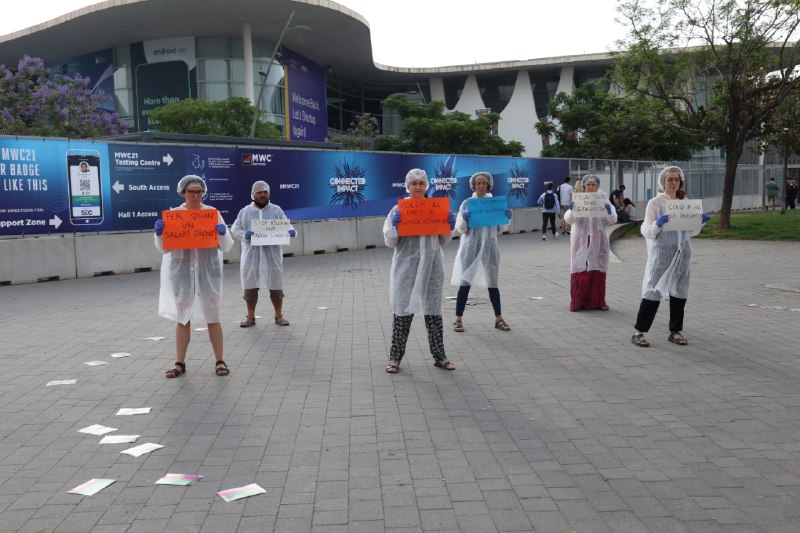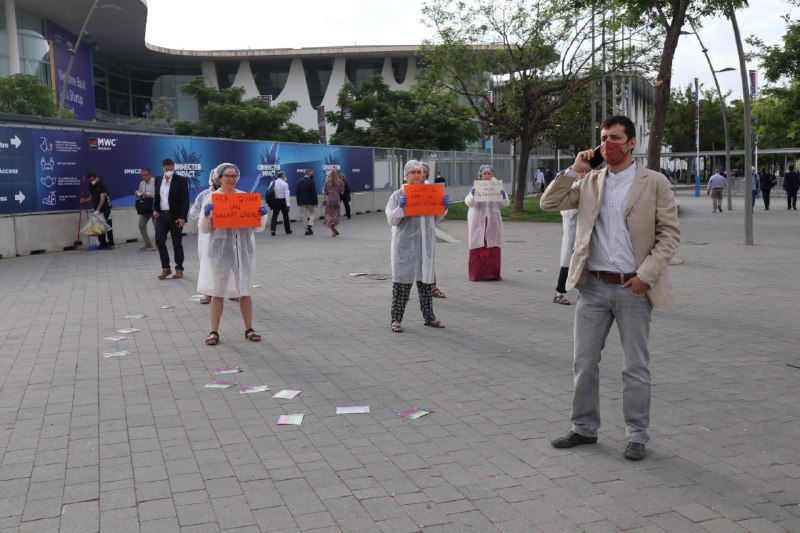 On Monday 28 June, the day the Mobile World Congress has begun in Barcelona, ​​SETEM Catalonia has organized a street action to make visible the human and labour rights' violations committed in the electronics industry, and to demand more responsibility from the companies involved.
The action has consisted of a performance, in which several workers were claiming their demands, while an employer was covering their mouths with adhesive tape one by one.
This performance aims to represent how large mineral extraction companies, as well as those of production and marketing, silence the demands of workers in the sector, who very often have no right to unionize, or suffer persecution or threats.
This action has taken place in the framework of the 6th edition of the Mobile Social Congress, a space for reflection, knowledge and exchange around the social and environmental impacts binding to the current model of production, consumption and disposal of electronic devices.
SETEM Catalonia wants to give visibility to serious human rights violations, especially labour rights, and environmental impacts generated by the electronics industry, which are not discussed at the Mobile World Congress.
The Mobile Social Congress was held in two parts this year. The first part in virtual format, May 5 and 6; several conferences were held which provided a summary and presentation of the main impacts on labour and environmental rights present throughout the electronics industry, and on how the Covid-19 has been an aggravating factor.
The second part takes place from 27 to 29 June in person. Various face-to-face activities have been scheduled, free of charge and open to the public, linked to the visibility of existing local initiatives in the repair, reuse and refurbishment of equipment, among others.