SLAVERY 2.0. FROM THE MINE TO THE DUMP
In this fourth edition of the Mobile Social Congress, we would like to depict the electronics industry's supply chain in its entirety. This year, the Congress will focus on the modern slavery generated by the technology industry's model of production and consumption, from the mine to the landfill.
The first day of the Congress will begin with the projection of the documentary "Projecte Mòbil" (Mobile Project) and a round table discussion, where we will present reports on the social and environmental impact of mining in Chile, Armenia and Zambia. In addition, we will analyse working conditions in the manufacturing of electronics and their association with suicide in factories in China. We will also look at the current regression in workers' rights in Eastern European countries that produce for the electronics industry. We will focus on the recent approval of Hungary's so-called "Slave Law", as well as the installation of Foxconn (the main producer for Apple and other important brands in the electronics industry) in the Czech Republic.
At the same time, we will hold a Restart Party (previous registration required) and an Install Party with a team of repairers and installers using a number of free software tools. We will learn how to lengthen the lives of our electronic devices while also taking back control of our communications and data using free software.
The second day of the MSC will be focused on the power of responsible public purchase in demanding respect for workers' rights in the electronics industry, and we will discuss best practice with different public administrations. In addition, we will get to know collaboration experiences involving the solidarity economy, businesses and the public sector to close our circle with the reuse, repair and recycling of electronic devices.
Finally, we will continue to show alternative proposals with a workshop on the responsible consumption and use of mobile phones, a second workshop on the co-creation of free cloud tools, and a third on controlling our data on the network with a role-playing game.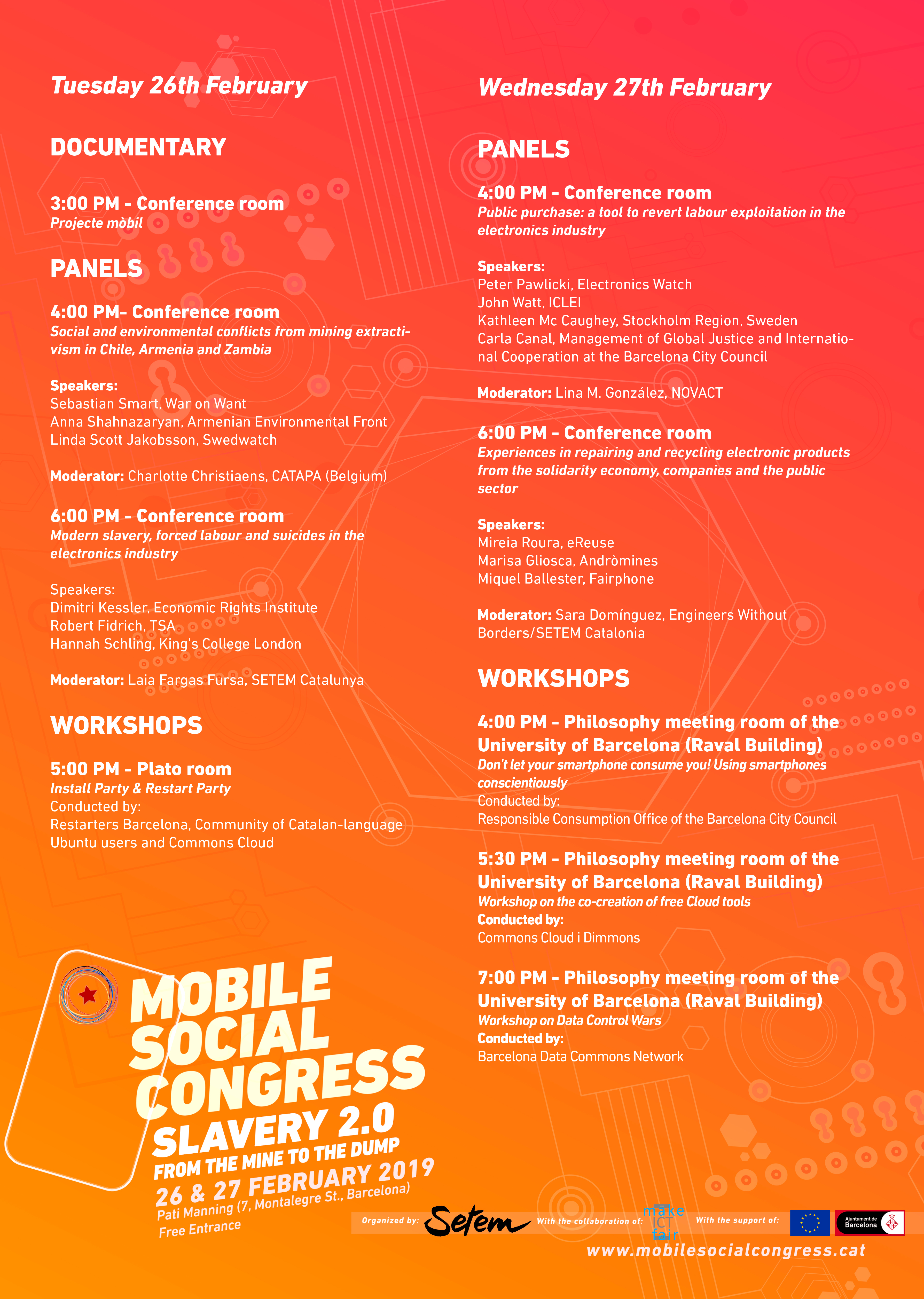 Press Summary
Dossier d'activitats
Vídeos MSC 2019
Video Summary MSC 2019
STREAMING DAY 1 (26TH FEBRUARY) 1/2
STREAMING DAY 1 (26TH FEBRUARY) 2/2
STREAMING DAY 2 (27TH FEBRUARY)
Spot MSC 2019
Action to denounce working conditions in the technology industry
Photo Gallery
Tuesday 26th February
Wednesday 27th February
Action in the Mobile World Congress