Sign global petitions to switch to fair electronics!
There is a historic opportunity to demand longer lasting and more repairable smartphones from the EU so that their social and environmental impacts are reduced. To achieve this, we need to make some noise before the EU publishes its Circular Economy Action Plan in early March. A lot of noise! Sign this petition to show the EU that this is something the public wants.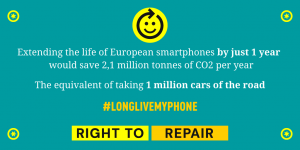 Responsible public purchase of electronics in one click! The university communities – students, alumni, Administration and Services and teaching staff – are mobilizing to make Catalan public universities part of the Electronics Watch foundation. Through this website we send our request to the rectorates as well as to the CSUC.
Public Money, Public Code
Why is software created using taxpayers' money not released as Free Software? We want legislation requiring that publicly financed software developed for the public sector be made publicly available under a Free and Open Source Software licence. If it is public money, it should be public code as well. Code paid by the people should be available to the people!

Complicit: Demand Samsung and Apple Protect Workers from being Poisoned
Watch the Complicit trailer and sign the petition demanding Apple and Samsung and other producers of consumer electronics  protect workers by removing all known toxins and cancer-causing chemicals such as benzene and n-hexane from all stages of the device manufacturing supply chain.