In the 2018 edition of the Mobile Social Congress, the first day will be dedicated to solutions from the social and solidarity economy for recycling and reusing electronic products. We'll also hold a Restart Party, where a team of repairers will help registered participants lengthen the lives of their broken electronic devices.
In addition, we'll talk about technological sovereignty from a feminist point of view, we'll discuss how experiences and initiatives can be built to develop freedom, autonomy and social justice in technology. Along these lines, we'll debate on the transformational capabilities of technological tools with open licences, and the role of women in this process. A specific workshop will provide clues on how to protect our security online.
We'll interview Som Connexió to find out how the telecommunications services offered by this non-profit cooperative have evolved.
On the second day of the Mobile Social Congress, we'll denounce the negative impacts of mining, a process essential to obtaining the raw materials for electronic devices. We'll look at how it impacts the rights of women and the environmental rights of affected Latin American communities, through testimony from two activists from Bolivia and Ecuador. In a workshop, we'll talk about the Congo and we'll look at the role of civil society in the war over natural resources the country is experiencing.
In addition, regarding the working conditions at the factories producing electronics, we'll focus especially on flagrant violations of safety rules regarding the use of toxic chemical products without adequate protection, and the serious impact this is having on workers' health. We'll talk about multiple petitions from civil society aimed at Samsung and Apple, some of which also address workers' miserable wages and their lack of real freedom of association. A specific workshop will guide us through a campaign organized on the 10th anniversary of the production of iPhones in Foxconn's Chinese factories.
The interview with the Scottish university consortium APUC will provide a glimpse of the work they've done together with Electronics Watch to improve the conditions at factories through public contracting.
This is the complete PROGRAM, including the different panels, interviews and workshops that will take place: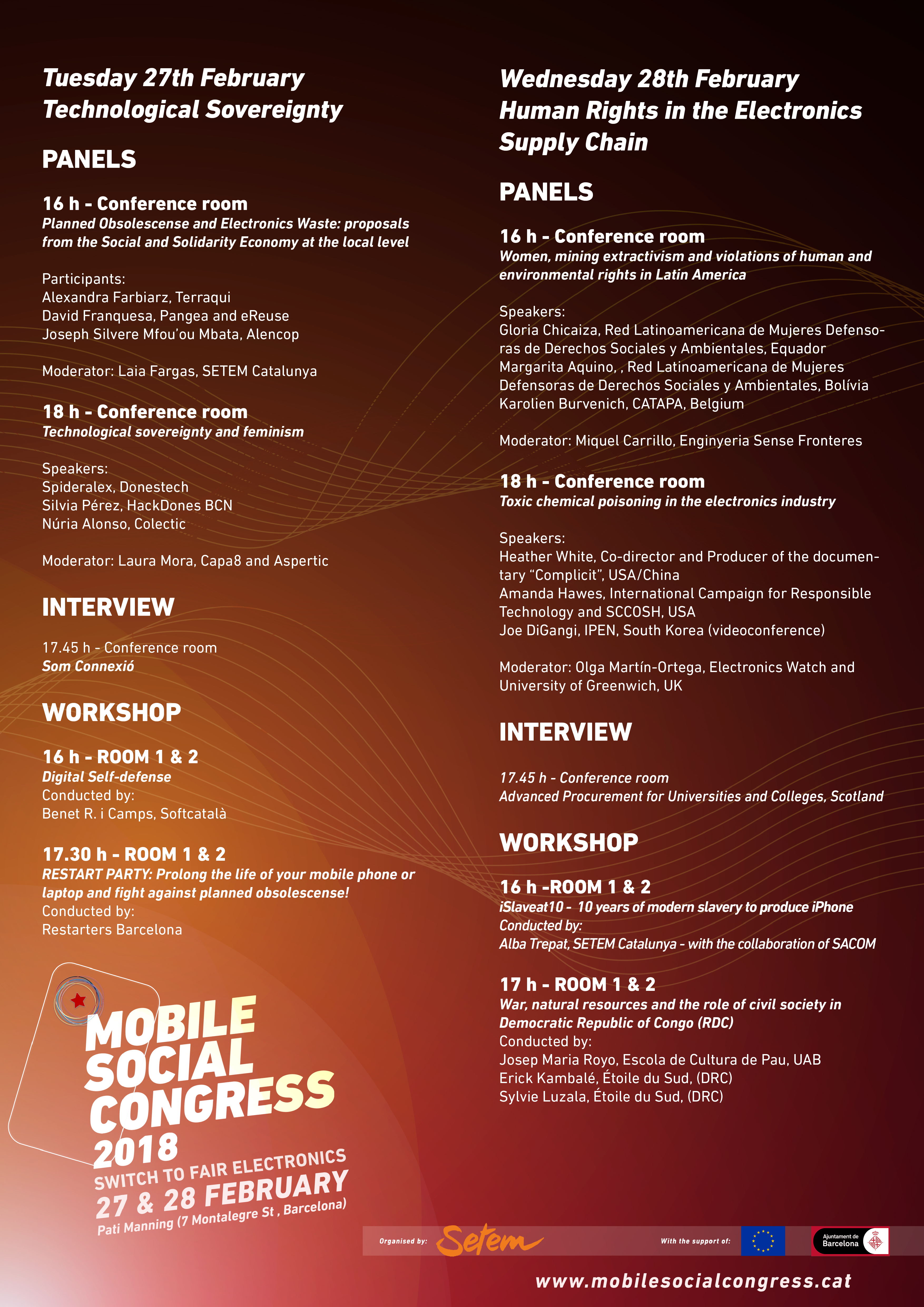 Auditori Pati Manning
Barcelona and online

4:30 pm - 5 pm
WELCOME AND PRESENTATION OF THE MOBILE SOCIAL CONGRESS 2023
David Llistar,  Barcelona City Council
Claudia Bosch, SETEM Catalunya

5 pm - 6 pm
THE PHILIPPINES AND THE ELECTRONICS INDUSTRY
State of workers' rights
Kamz Deligente, Center of Trade Union and Human Rights (CTUHR)
Women, health and safety and the factory
Nadia De Leon, Institute for Occupational Health and Safety Development (IOHSAD)
Persecution of land defenders
Czarina Musni, lawyer and human rights defender
Moderation: Marco Aparicio, Observatori DESC

6 pm - 7 pm
FREEDOM OF ASSOCIATION: A PROTECTED RIGHT OR PERSECUTED?
The union fight in the electronics sector
Alexander Ivanou, Industri-ALL
Union busting in Thailand
Wallop Choojit, NXP Workers Union Thailand
Technological application for the support of union movements
Oren Goldberg, WorkIt / United4Respect
Moderation: Amanda Alons, CCOO

7 pm - 7:20 pm
SNACK BREAK

7:20 pm - 7:30 pm
SHORT FROM FAIRPHONE

7:30 pm - 8:30 pm
MINING: BREAKING THE MOULD
Southern African mines in the spotlight
George Bokondu, Southern Africa Resoure Watch (SARW)
Support to cooperative mining in Bolivia
Jesús Alberto Rea Campos, Centro de Investigacion y Servicio Popular (CISEP)
How should the EU address the provision of minerals?
Diego Marin, European Environmental Bureau (EEB)
Moderation: Alberto Guerrero, alterNativa

8:30 pm - 8:40 pm
CLOSURE
Auditori Pati Manning
Barcelona

6:30 pm - 8:30 pm
FILM FORUM
e-Life, Edward Scott-Clarke, 2018
Discussion with:
Robin Ingenthron, Good Point Recycling
Moderation: Sara Domíngues, SETEM i ISF
Convent de Sant Agustí
Barcelona

11 am - 2 pm

Restart Party
Repair workshop of small electric devices with Restarters
Install Party
Workshop to install free software and apps with HackLab Logout
Human Rights come into play!
Children's games workshop on responsible consumption with SETEM
The life cycle of electronics
Exhibition of SETEM's Fair Electronics Campaign
* All panels will have simultaneous translation to English.